Grey: Alright, the combatants are set!
Ike: It's time to end this debate once and for all!
Grey: I still disagree with the verdict...
Ike: No you don't. You're the one who came up with it.
Grey: I did? Huh, I must have forgotten.
Ike: Let's just get the battle started.
Grey: Agreed!
Both: It's time for a Death Battle!!!!
_________________________________________________________________________________________________
Altean Countryside, Archanea
www.youtube.com/watch?v=NMIdcU…
"Another beautiful day. I hope it stays like this." These were the thoughts of a man who had suffered much, a warrior who had fought many battles, and a king who ruled his people with benevolence.
These... were the thoughts of Marth, The Hero-King, as he walked through the countryside, without a care in the world.
By his side was a woman who had fought these same battles with him, and suffered many losses as well. She eventually became his queen.
"Marth, dear. Should we not get back to the castle? It'll be dark soon."
"I suppose you're right. Let's cut through that meadow over there." He pointed to a field, filled with beautiful white flowers.
"Alright."
The two made for the meadow, unaware of the events that would take place that day.
_________________________________________________________________________________________________
Odani Castle, 1570, after the Battle Of Anegawa...
He had to get there...
He had a message to get to his lord at once!
Isono Kazumasa, the righthand man of the Lord of Bizen, ran towards the castle in the hopes of delivering his message as quickly as possible!
With the castle in sight, he breathed a sigh of relief as he nearly tripped over himself.
He crashed through the door and ran up the several flights of stairs to the main room, where his lord was resting.
The man known as Nagamasa Azai was resting on a small group of pillows, with a soft looking girl resting on his shoulder.
Kazumasa burst through the door, which broke the silence, causing Nagamasa to instantly stand up.
"Milord! I have urgent news!"
"Is it something that can wait?"
"No milord! I fear that this is most urgent!"
"Very well. I will be ready in a moment."
The young girl, who had been knocked down by Nagamasa's sudden movement, grabbed her cup and ball, with a smile on her face.
"Don't forget about me!"
Nagamasa turned to face his wife, with a look of concern on his face. "Oichi. I want you to stay here."
"But why?"
"Where I'm going might be dangerous, and I don't want you to get hurt."
Oichi was not happy, to say the least. "If your biggest fear is of me getting hurt, then bring me along!"
"You know I-"
"No protesting. You told me that we would always be together, right? There's no safer place than at your side."
"But... I..."
Nagamasa finally gave in, letting out a big sigh.
"Alright then. But if there's any sign that your life is endangered, you must stay back, alright?"
"I will!"
With that, the two followed Kazumasa, unaware of the tragedy that would take place.
_________________________________________________________________________________________________
Open field, not too far from Odani Castle...
It had taken them awhile, but they had finally reached their destination.
Nagamasa couldn't believe his eyes.
"What is this thing, Kazumasa?"
"I'm not sure, milord. One of our men said it just appeared out of thin air, like magic or something."
The object in question, was a large portal, pink and purplish in color.
"What should we do about it, milord?"
Nagamasa thought about it for a moment before coming to a conclusion.
"Kazumasa."
"Yes, milord?"
"Head back to the castle at once. Me and Oichi will investigate this... thing."
Kazumasa couldn't believe his ears.
"B-but milord! You know I can't do that!"
Nagamasa turned to him, with a sharp tone.
"Kazumasa! If this thing is dangerous, then we'll need to evacuate as many people as possible."
He then turned to Oichi, with a loving smile on his face. "Shall we?"
"Of course."
The two grabbed hands and stepped through the portal, ready to face whatever awaited them on the other side.
_________________________________________________________________________________________________
Back in Altea...
As Marth and Caeda continued their walk towards the field of flowers, The Hero-King noticed something in the distance.
It was hardly noticeable at first, but then it grew bigger and bigger.
Eventually, the anomaly grew to it's full size, and two figures stepped out of it.
"Caeda, stay here."
She quietly nodded as Marth ran towards the field.
All sorts of thoughts were going through Marth's head as he ran; Who were those figures? Would they be a threat to Altea?
He was so lost in thought, he didn't even notice the young girl, and promptly bumped into her.
She fell back with a yelp, which snapped Marth out of his thoughts.
Marth went over to her to see if she was ok, but had to jump back when a large jousting lance nearly impaled him in the face.
"Get away from her!" The man holding the lance proclaimed, as he ran towards Marth with it.
Marth pulled out his Rapier and sighed.
Looks like it wouldn't be a relaxing day after all.
_________________________________________________________________________________________________
www.youtube.com/watch?v=K1_PbX…
Marth deftly sidestepped to the right of his opponent, and swung his Rapier towards Nagmasa, only for him to bring his lance up, blocking the strike. He then charged once again, and Marth once again dodged it.
This went on for a few rounds before Nagamasa realized this wasn't getting him anywhere. He decided to change things up a bit.
As he charged again, Marth sidestepped again, expecting to dodge it. What he didn't expect was Nagamasa swinging his weapon to the right, which managed to cut Marth on the shoulder.
"Yes! I knew that it would work."
Marth jumped back, barely dodging Nagamasa's follow-up strike, and grasped his shoulder.
"Not bad. You knew I would expect that, and changed up your attack. Just how smart are you?"
Nagamasa gave him a sheepish look, before quickly stating: "Actually, I'm really not all that good at strategy, and that was my first time trying that."
Marth gave him a puzzled look, and then quickly charged forward, lunging at Nagamasa with his Rapier, aiming straight for Nagamasa's jugular vein.
Nagamasa once again blocked it, but was too slow in dodging the second one, causing him to get cut right in the arm.
Nagamasa barely had time to wince, as Marth became enveloped in a greenish light.
"Astra!"
What followed was five lightning quick jabs at Nagamasa's midsection, 4 of which he was able to escape from. The 5th strike, however, was too fast for him, causing him to get stabbed straight in the ribs, albeit barely.
Marth then charged again, which Nagamasa knew was a strike he couldn't block.
However, just as Marth struck, the worst kind of bad luck befell him; the blade of the Rapier broke in two, leaving Marth completely helpless.
Nagamasa smirked, and began jabbing his own weapon several times at once, every one of them hitting Marth in the chest.
He ended the assault with a shockwave, sending Marth flying several feet, straight into a tree. The impact caused the tree to fall over, and Nagamasa was convinced that his opponent was finished.
He gave his fallen opponent a silent salute before turning around to leave.
www.youtube.com/watch?v=EjXU1p…
It was over. He couldn't win. How could he compete with that kind of range?
As the Hero-King accepted his fate, he could have sworn a voice was calling out to him. It was barely noticeable at first, but as it grew louder, Marth instantly recognized it; It was him; the man he had the honor to call a friend; Chris.
"Milord!"
"Chris... I-is that you?"
The spectral image of Chris shook his head with sadness. "No. I'm simply a figment of your imagination."
"O-oh... What are you doing here?"
"You can't give up, Milord. You can win, I know you can!"
This time, it was Marth's turn to shake his head. "No. His determination and power are too much. I can't compete with it."
At that moment, another spectral figure appeared out of nowhere; It was Caeda, the woman he cared for so deeply.
"Marth! Please don't give in. I need you. We... need you!"
"W-we?"
All of a sudden, many more spectral figures appeared; Jagen, Cain and Abel, Katarina, and everyone else, all cheering him on.
Chris walked up to Marth and outstretched his hand.
"You can do it. I believe in you, my liege."
Caeda outstretched her hand as well. "We all do! So get back up and show him who you are; Marth, the Hero-King!"
It was at this point that Marth, with a tear in his eye and a smile on his face, gladly took both hands and proudly stood up, once again.
"You're right! I can't give up now! If I did, I'd be letting down the people who care for me, who believe in me!"
"I will fight. And I will win!"
A shining door appeared in front of him, and he slowly began walking towards it, all the while being cheered on by his friends.
"You can do it!"
"Go for it!"
"Kick his teeth in!"
As Marth reached the door, he heard one last voice: "Come home to us!"
As he made his way to his wife, Nagamasa swore that he could hear something. Subtle at first, but as it grew louder, he knew exactly what it was.
www.youtube.com/watch?v=Bio99h…
"It's not over!"
Nagamasa turned, looking for the person who said those words and was shocked by what he saw; Marth, the Hero-King. battered and beaten, with bloodstains all over his armor, but still very much alive.
He couldn't believe his eyes! He had put so much force into that attack! He should be dead!
"How could you have possibly survived that?!"
"I won't die that easily! I have people that care for me, people that look up to me, not just as a king..." He looked over at his wife again; "But as a man also. I will prevail!"
Marth then pulled out a brand new blade, which notably had a red gem in it's hilt and a noticeably different coloring for it's blade; It was the Sacred Blade, Falchion, which Marth had used to defeat the Earth Dragon Medeus not once, but twice.
He also pulled out a shield like item, that notably had five gem like items embedded in it; This was the Shield of Seals, a direct counterpart to the Falchion.
Nagamasa could only stare in awe as Marth prepared for battle. He then looked over at his wife. That was the only motivation he needed.
"You said that you had people that depended on you, right? Well, I also have people I care for." He directed Marth's attention to the young woman standing behind him; A young brown haired girl, with a wisteria flower in her hair.
"Not just her, either. I, as a ruler, also have people that look up to me. He thought back to them.
Kazumasa, his faithful retainer and greatest friend.
Lord Asakura, who he had known for a long time.
And even... him. His thoughts turned to a tall, imposing figure, one drenched in black. It was none other than Nobunaga, his own brother-in-law.
"So you see, neither of us can afford to lose this fight."
"Indeed." Was the only response Marth gave. If he had any sign of sympathy for his opponent, he certainly didn't show it.
"Ready?"
Nagamasa only nodded.
The two readied their weapons, convinced this was the final duel. There was to be no more words. Only action.
www.youtube.com/watch?feature=…
Marth made the first move, quickly charging at his opponent, who already had a running start.
The two clashed, but only Marth's blade made contact, shining like the sun as he slashed Nagamasa across the chest.
"Sol!"
Marth's wounds seemed to disappear as the two engaged in a deadly weapon clash, sparks flying every which way.
Nagamasa found an opening, and broke the clash, once again preparing his Musou attack. This time, though, Marth was ready for it.
As Nagamasa stabbed, Marth quickly jumped back, expecting him to end his attack with a short range shockwave like before.
This was not the case, as Nagamasa then shot forth a great wave of energy, intending on cutting Marth in two.
The powerful attack hit Marth, who was only saved thanks to the power of Aegis.
Nagamasa stepped back, quite impressed indeed.
"Not bad. That was my strongest attack, yet you managed to survive it. Color me impressed."
"However, you won't last much longer with those injuries. Give up and I will spare your life."
"Never. If I died, what would I say to the friends I lost on my journey? That I gave up in the face of adversity?"
"I warned you." Nagamasa pulled a small sword out of it's sheath; The Azai Ichi-Monji, which had the strange power of granting it's user elemental properties.
At the same time, Nagamasa noticed that his opponent's weapon had started glowing again, this time with a brilliant blue sheen.
They both knew. This would be the final clash.
www.youtube.com/watch?v=7Q9ihU…
They charged each other, with the hopes of not only the living on their shoulders, but also the departed, who had died to insure that they could live.
They clashed, and for each slash Marth made with Falchion, Nagamasa countered with his lance. Nagamasa suddenly realized that his opponent's attacks, more often than not, would break through his guard, which only earned himself more cuts as this final brawl took place.
At the same time, Marth noticed that his opponent's lance had begun to glow with a strange aura, similar to his Falchion's, except with a red coloring rather than his sword's blue one. He also noticed that every time his opponent landed a strike on him, Marth not only felt the sting of the cut, but a weird burning sensation, kind of like fire.
But what was causing it? As he blocked a overhead swing, he jumped back and started to think.
Nagamasa took that opportunity and charged at Marth again, hoping to get the jump on him.
Marth simply deflected it with the Shield of Seals, forcing his opponent back.
He then came to a realization; It was the short sword! If he could get rid of it, he might be able to cripple his opponent.
He charged up the power of Luna and charged at his opponent one last time. His opponent responded by charging as well.
Their weapons clashed against each other again. This time, the power they had put into their weapons glowed, creating a beautiful bright light, which had clashed against the dark sky. They each tried to overpower the other, knowing that one slipup would cost them their lives.
Luckily for Marth, his opponent slipped up and he found his chance to strike. He grabbed the Azai-Ichi-Monji and threw it away, distracting his opponent long enough for him to land the finishing blow. He broke off the clash and, before his opponent could strike, he stabbed forward with Falchion, landing a mortal blow straight through Nagamasa's stomach, the blood tipped blade barely peeking out.
Nagamasa gasped and dropped his weapon, knowing full well he had lost.
He, too dropped down in defeat, as his wife quickly ran to him, with tears streaming down her face.
www.youtube.com/watch?v=kKCl3V…
"Lord Nagamasa, no! Don't die, please. What of the promise we made? To always stay together? Was that all a lie?"
Nagamasa looked over at her, with tears staining his face, too. "Oichi, please. Don't cry. I have always intended to keep that promise, no matter what the cost."
"B-but..."
"However, it looks like this time, I'll have to break that promise."
"No! Please!"
Nagamasa looked over at his opponent, who was standing over him, with compassion in his eyes.
"Will you tell me your name, brave warrior?"
A moment had passed before Marth opened his mouth. "It's Marth."
"Thank you. My name is... Nagamasa Azai... Lord... Of Bizen."
As Nagamasa felt his strength leave him, he looked over at Oichi one last time.
"I'll be waiting for you, my darling. Don't die too quickly now, alright?"
Oichi slowly nodded, tears streaming all the while.
"Good. Farewell, Marth. May your... future... be bright..."
He breathed his last breath, a serene smile on his face.
"Farewell, Nagamasa Azai, Lord of Bizen. May you find true peace in the afterlife."
A single tear rolled down his cheek, knowing that in another world, they could have been allies, friends even. He then took Caeda's hand and slowly walked back to the castle as the sun rose, knowing he had taken the life of a true hero.
K.O!!!
_________________________________________________________________________________________________
www.youtube.com/watch?v=O6UOa2…
Grey: I promised not to cry. I promised not to cry. I... promised not to... WAHHHHH!!!!
Ike: Wow. What an emotional ending.
Grey: WAHHHH!!!
Ike: Give me a minute, folks.
( The next five minutes is spent with Ike slapping around Grey, trying to get him to calm down.)
Grey: Phew. All better. Did you really have to slap me, though?
Ike: If I hadn't, you would have cried for hours, like that time in Jamaica, when you-
Grey: Let's... not bring up that story in front of the kids and get on with the aftermath, shall we?
Ike: If you say so.
Grey: Good. Now, while Nagamasa had the weapon advantage, what with lances beating out swords and what not, that was the only true advantage he had.
Ike: Marth is far faster, stronger, and way more experienced, fighting and ending not 1, but 2 wars, all with only a small army at his back.
Grey: Not to mention that the skills that Marth had tipped the scales in his favor, even being able to heal his wounds while Nagamasa had no real way of doing so.
Ike: Looks like Nagamasa didn't have the stomach for this fight!
Grey: The winner is Marth!
Marth (Winner)
+Faster
+More Experience
+Skills helped out quite a bit
=Strength more or less equal
-Weapons had a disadvantage
-The Rapier could break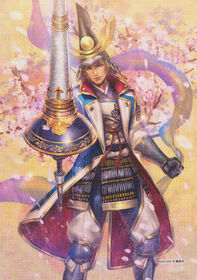 Nagamasa Azai (Loser)
+Weapon advantage
+Could cover more area with his weapon
=Strength was pretty equal
-Slower
-Pretty naive, when you think about it
-Sense of honor hindered him
_________________________________________________________________________________________________
Next Time on Death Battle...
These two have ambitions larger than the average man. They've met several times before, but never in the Death Battle Circuit.
Nobunaga Oda vs. Cao Cao!
Coming out at some point in Janurary!